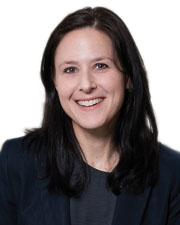 Name: Amy Crader, AICP
Title: Vice President
Company Name: AKRF, Inc.
List up to three associations or organizations that you are currently a member of: American Planning Association and Coro New York Leadership Center
What would you tell your daughter if she was interested in following in your footsteps?
I tell my two young sons the same thing I would tell a young daughter: It is our shared responsibility to create a future that places the same value on what boys and girls and women and men do. This perspective was instilled in me growing up with two brothers. There wasn't a focus on, or a question about, our abilities based on our gender or regarding expectations for what we could accomplish. The value of different voices and perspectives is critical to identifying and understanding what is important to people in shaping a changing and shared future.
What trend(s) will dominate your industry in the next year?
Moving forward with the events of the past 7 months fresh in our minds, urban planners are working to confront inequities within the field of urban planning. COVID-19, Black Lives Matter, voting access, working parents and remote learning, among other things–these are critical issues to confront from a broader perspective. This is an opportunity to adjust the course of urban planning – to make it more relevant and accessible, to challenge prior planning approaches with opportunities for meaningful change – while holding ourselves accountable within our own urban planning practices. This next year will be telling.