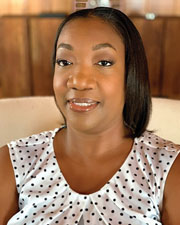 New York, NY Octavia Hayward was recently awarded IREM NYC's George Brooker Scholarship. Hayward is a director of property management at the New York City Housing Authority and is working towards her Certified Property Manager (CPM) certification.
"IREM's training has given me the ability to maximize the value of my properties and a competitive advantage among others in the industry," said Hayward.
The chapter offers two scholarships—the Sandra Kerin, CPM and the George Brooker, CPM Memorial Scholarship Program. The scholarships were created to honor two beloved late members of the chapter, each of whom worked tirelessly to further the education of young professionals by serving as exemplary role models, leaders and mentors. Each year the chapter awards scholarships to worthy applicants who are selected by the committee based on merit.
Recipients of the Sandra Kerin receive full tuition to become either an ARM or ACoM. Recipeints of the George Brooker receive the cost of tuition for one of the courses required to become a CPM.
For more information please visit iremnyc.org