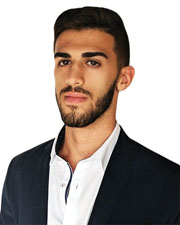 Name: Eddie Keda
Company: Tri State Commercial Realty
Title: Associate
Which project, deal, or transaction was the "game-changer" in the advancement of your career?
85 Quay St. I leased 3,000 s/f in Greenpoint to Wild Alaskan Inc. The crazy part is I met the owner while walking down the street of the property. We had a small conversation which led us to closing the deal.
How do you contribute to your community or your profession?
I support the Sephardic Bikur Holim and volunteer at both the Sephardic Community Center and the Ahi Ezer Housing and Nursing Home.
What do you like most about your job?
My love for meeting new people, learning something new every day from somebody completely different from the last, and helping people start new businesses when they never thought they could.
What led you to your current profession?
I truly believe every point of my life was meant to be and lead me to where I am today.
What social media platform do you use the most professionally?
LinkedIn
Who or what inspires you?
My parents inspire me, I love seeing them happy.
If your life were made into a movie, what actor would you want to portray you?
Christian Bale