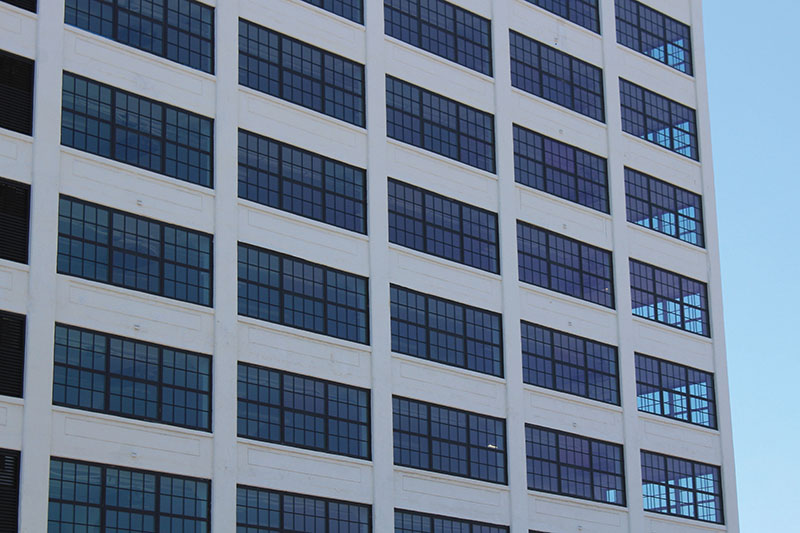 Brooklyn, NY Crystal Window & Door Systems has played a key role in the recent restoration and conversion project. Located at 341 39th St., Sunset Yards is a newly renovated 200,000 s/f 10-story structure that converted a 1920s vintage warehouse (and attached seven-story building) into modern open office spaces with trendy, appealing industrial style finishes. Those finishes thermally efficient Crystal replacement windows fabricated to replicate the look of the original historic industrial windows. The large windows not only breathe new life into the vintage structure, but they enhance the building's views of Lower Manhattan, New York Harbor, the Verrazzano-Narrows Bridge, and the surrounding neighborhood.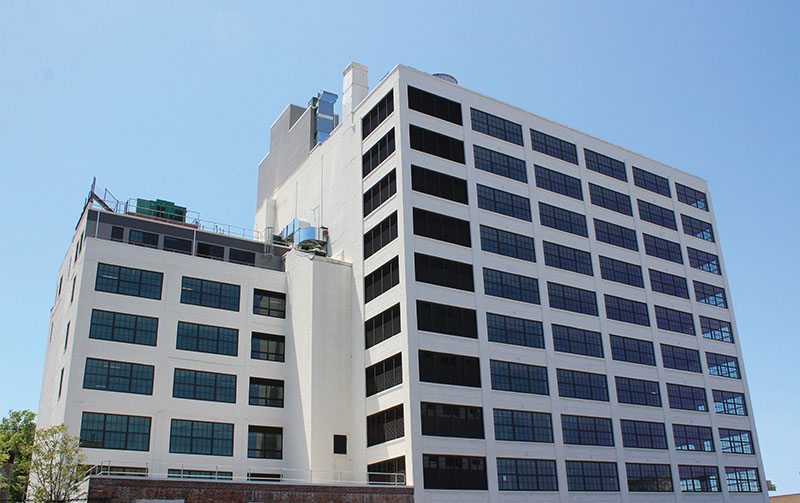 The building's 185 openings utilized 940 new Crystal aluminum windows, mostly Series 8610 Picture and Series 8620 Project-Out Awning windows, plus several Series 5000 Double-Hung windows. The majority of the Crystal Series 8610 and 8620 windows using continuous master frame options and mullions were assembled in large combinations of 6 or 4 windows. Some of the largest window assemblies spanned openings over 17 ft. wide and almost 7 ft. tall.
The Crystal Series 8610 Picture and the Series 8620 Project-Out windows are both heavy-duty construction, 3-¼" jamb depth, AAMA AW-rated high-performance products. The Series 8620 Project-Out awning style window uses 4-bar stainless steel friction hinges and a double-weatherstripping sash perimeter for easy operation and tight weather-resistant sealing.
The Crystal 5000 Double-Hung aluminum window is also 3-¼" frame depth and features equal sash sightlines, anti-drift clip lock and an AAMA CW-PG50 rating.
The 1" insulated glass units (IGUs) of all the new Crystal windows were specified with 3⁄16" Vitro Solarban 60 low-E coated and clear glass panes and were Argon gas-filled for enhanced energy efficiency. Visually adding to the building's distinctive look and echoing its early 20th Century industrial warehouse past, special 3M interior and exterior tape-on muntins were used to simulate the look of true divided lites.
The use of receptors, sub sill, and clip/trim systems facilitated the installation of the new windows. All windows and exposed installation accessories were finished in a durable environmentally sustainable AAMA 2604 powder coat bronze paint.
The property owner and developer of Sunset Yards is Madison Realty Capital. Perkins Eastman was the project architect, and Mega Construction served as general contractor. Several New York area fenestration companies provided the window installation services.
The Sunset Yards building was originally constructed in 1926 directly adjacent to freight rail lines and near the Brooklyn docks and waterfront warehouse complexes, which were booming with activity at the time. For most of its life the building has been home to various warehouse and light industrial companies. Besides new windows, the recent renovation and conversion to modern post-industrial office spaces includes flexible open floor plans with reception and meeting areas, an attended and furnished lobby, and ground floor retail.
A feature of the renovated property is a large mural by artist Mike Perry. Completed by the Mike Perry Studio team, the mural depicts New York City scenes and covers the walls and columns in this repurposed loading dock area that is now a food truck café space open to tenants and the public from street level.