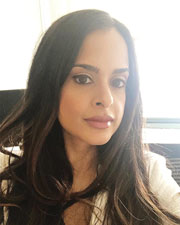 Name: Komal Bhargava
Title: Of Counsel
Company Name: Zinkovetsky Law Firm
What is one characteristic that you believe every woman in business should possess?
Confidence. During the course of my career, I have had the privilege of meeting many powerful women who exude a level of confidence that is tangible. The kind of confidence that changes the energy and mood of a room. In the world of business, where historically women have been socially conditioned to be quiet and submissive, the women who succeed are the ones that have confidence in their abilities, confidence in their voice and confidence in their intuition (which I believe is a woman's super power).
What would you tell your daughter if she was interested in following in your footsteps?
Since I have a three-year-old daughter, this is something I think about a great deal. What I want most for my daughter is for her to follow her passion. Beyond just her passion, I want her to unapologetically and unabashedly take actions to succeed and to pursue her passion. If someone tells her she cannot do something, I want her to understand that it is because that person is simply expressing his/her own limitations. I want her to believe anything is possible.