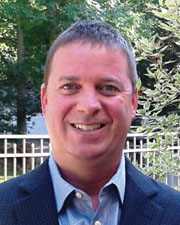 Albany, NY The Upstate New York Chapter of the Appraisal Institute awarded, Christopher Harland, MAI, the annual Richard Kelley Memorial Award for 2019. The late Richard Kelley, MAI of Syracuse was an icon to the appraisal profession in a career that spanned over 54 years.
Harland is Northeast real estate manager for Hilco Real Estate Appraisal, LLC and has experience in the appraisal of a variety of properties for private, institutional and public clients throughout the state.
The award goes to an individual who makes a significant contribution to the chapter, the appraisal profession or their local community. The Appraisal Institute is recognized as the leader in the real estate appraisal industry and is one of the oldest organizations of real estate appraisers in the world.