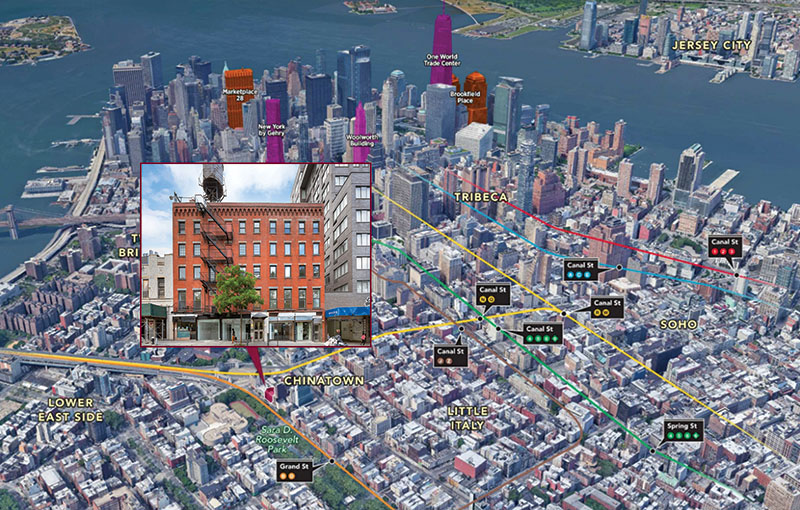 New York, NY Rosewood Realty is pleased to present the opportunity to joint venture or purchase 55-59 Chrystie St., a six-story elevator office/retail building currently in bankruptcy.
The 46,365 s/f property, located in the up-and-coming Lower Manhattan area, is architecturally significant and boasts 75 ft. of frontage. The ground floor is comprised of two retail spaces, and the second through sixth floors consist of office/commercial.
Located three minutes from the Grand St. subway station, the property has vaulted ceilings, original beams, modern upgrades, and outdoor patio and roof deck, providing views of Manhattan and Brooklyn.
Built in 1900, the building underwent capital improvements in 2014 and 2016, modernizing while accentuating the character of the existing structure. $1.9 million was spent on updates to the common areas, loft, and office spaces.
55-59 Chrystie will attract a diverse office tenant roster across an array of industries, both established and startup, such as media, tech, art, health & wellness, fashion, and finance, thereby insulating an owner from industry specific risk. The property, in part or in entirety, can also be used as a luxury gallery or high end event space.
This deal presents investors the opportunity to purchase a unique mixed-use asset with incredible upside. Due to its vacancy, it is a blank slate.
Whereas the property is currently in Chapter 11 and is slated for sale, ownership is also actively seeking joint venture proposals.