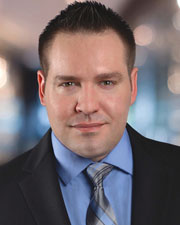 Melville, NY Legal 1031 Exchange Services, LLC, a division of Kensington Vanguard National Land Services (KV), has promoted James Walther, Esq., LL.M. to the position of general counsel. KV recently completed an acquisition of Legal 1031, and merged the company with its qualified intermediary, KV 1031 Exchange.
Walther will be based out of Legal 1031's local office, where he will support the members of the Legal 1031 leadership team in business operations and growth strategy. In addition, he will continue to be a resource to Legal 1031's clients and their advisors for 1031 exchanges transactions ranging from basic to extremely complex.
Prior to working for Legal 1031, Walther worked for a Philadelphia law firm where he advised and represented clients in legal matters, including real estate matters, commercial litigation, and employment matters. Walther received an LL.M. in Taxation (Master of Laws) from Temple University's Beasley School of Law with an accompanying Certificate in Employee Benefits. He received his JD from Rutgers School of Law and received a BA in Political Science from Stonybrook University. Walther is also a Certified Real Estate Continuing Education instructor in the state of New Jersey.
Todd Pajonas, president of Legal 1031 said, "James' skill, diverse legal experience, and Master of Laws in Taxation, make him a perfect fit for this position."
Matt Scheriff, executive VP of Legal 1031, said, "Our goal to expand Legal 1031's footprint nationally requires a strong general counsel. We believe that James is the right person to help Legal 1031 achieve its goals."