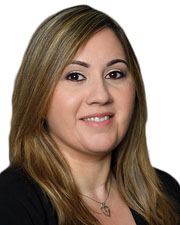 Name: Elsa Ben Shimon
Title: Partner
Company Name: Stroock & Stroock & Lavan
What books, blogs, podcasts, resources or influencers would you recommend to women?
"Lean In" by Sheryl Sandberg: Even though I don't agree with all of her conclusions, there are many excellent insights into the challenges women face in the workspace; "Why Women Still Can't Have it All," an article in The Atlantic by Anne-Marie Slaughter; and "Know Your Value" by Mika Brzezinski.
How do you hold your own in a negotiation?
I have learned to develop my own style, keep my cool and composure even when things get heated, and try to find common ground with my counterpart in order to achieve the best results for our respective clients and get the deal done.
What recent project or transaction are you most proud of?
Negotiating a large scope programmatic joint venture between my client, a life insurance company from Israel, and a large United States institution, for value added commercial real estate transactions in the United States.
What was one of your biggest accomplishments in the last 12 months?
Joining the national real estate group at Stroock.