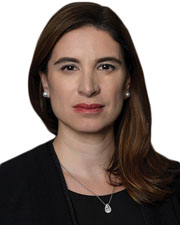 Name: Jennifer Recine
Title: Partner
Company Name: Stroock & Stroock & Lavan
What is your favorite motivational quote?
"Success is not final, failure is not fatal…" Often attributed to Winston Churchill, but not sure that is correct. Whoever said it first, it is an important reminder that persistence is what matters.
Who inspired you to join the real estate industry?
The clients. Getting things done in commercial real estate and construction takes tenacity and creativity. I've always enjoyed supporting real estate clients as they tackle the obstacles that inevitably arise in their projects.
How do you hold your own in negotiations?
Keeping the end goal in mind. Letting go of things that aren't central to that goal increases the likelihood of getting a good deal done.
What recent project or transaction are you most proud of?
I helped two clients keep a valuable development site in Long Branch, an up-and-coming area of the Jersey Shore. They had a deal to sell, but the buyers didn't perform despite accommodations. The buyer sued challenging the sellers' termination—a typical tactic to gain leverage to extend their time to buy. The clients defended their right to terminate. Even after settling on the eve of trial, the buyers dragged their feet transferring approvals and plans. We then successfully moved to enforce the settlement. It was a clear win.