Buffalo, NY SWBR won the Buffalo/Western NY American Institute of Architects (AIA) 2018 Community Award for its work on the Evergreen Center administration building addition.
The Evergreen Center is a part of Evergreen Health Services, which provides medical, supportive and behavioral health services. SWBR worked with Evergreen to design a five-story, 35,000 s/f addition to their existing facility, including the expansion to their administrative space.
"By working hand in hand with Evergreen Health, we were able to add onto the historic structure and convert the overall building into a modern administration and medical clinic space for their employees and patients," said Joe Gibbons, AIA, principal in charge of the project.
SWBR structural engineers created a design to connect the modern addition to the existing historic structure without imparting significant load. New foundations were kept clear of the existing building at the lowest levels. The connecting bridges at upper floors were hung from the addition's roof to keep them structurally independent. Additionally, a cost-efficient sideplate lateral force-resisting system was employed—a first in this area—saving steel tonnage and expediting erection.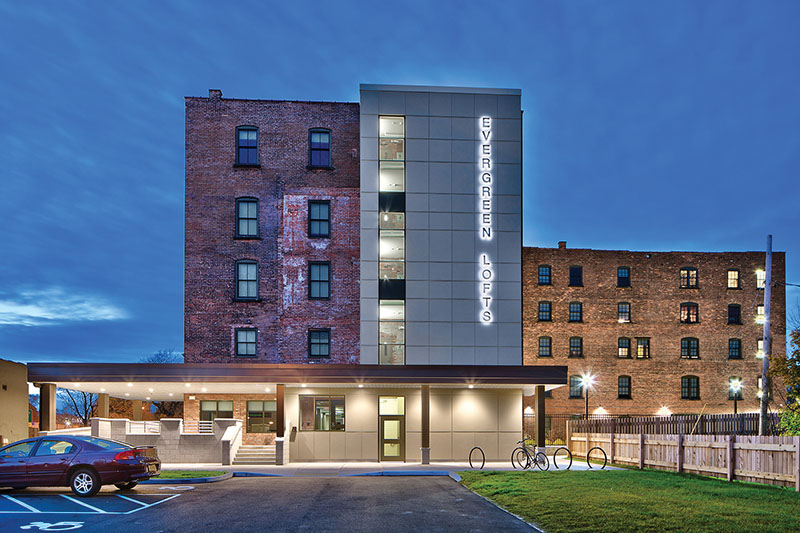 Earlier in 2018, SWBR was also awarded an AIA People's Choice Award for their work on the Evergreen Lofts.
The community awards are presented to projects, both built and unbuilt, that exemplify the best of quality, innovation and collaboration in the profession.
"We are thrilled with the award and SWBR's efforts to ensure a beautiful new administration space for our employees and patients," said Justin Azzarella, vice president of community development for Evergreen Health Services.