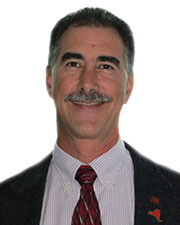 Shown above: Mike Kelly, director of government affairs for NYSAR, gives the legislative update to conference attendees.
The 17th Annual New York State Commercial Real Estate Conference, held at the Turning Stone Resort Casino in Verona June 4th through June 6th, was enjoyed by practitioners from New York State and beyond! NYSCAR along with the Upstate Chapter of CCIM, the Society of Exchange Counselors and the National Council of Exchangors hosted the three-day event.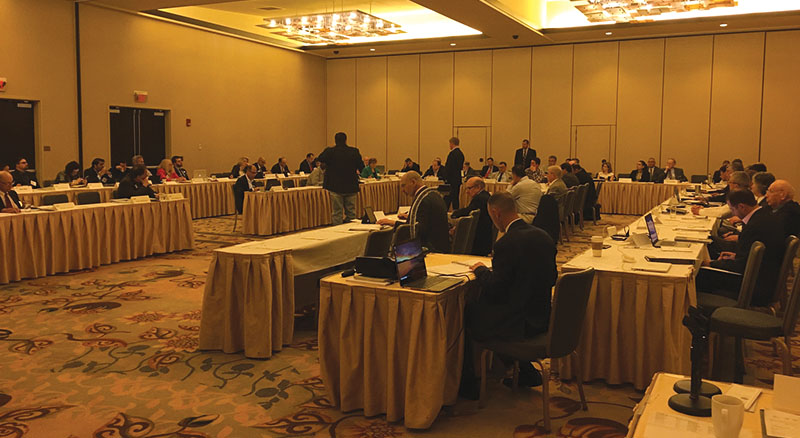 Whether you attended the CCIM sponsored syndication class, participated in the marketing session, or took advantage of continuing education classes, there was something for everyone. Many thanks to conference chairman James Walker, CCIM and the conference committee for planning a great event. We also could not have such a great event without the support of our terrific sponsors:
Diamond: Cushman & Wakefield Pyramid Brokerage;
Platinum: Exchange Authority, LLC, Hunt Commercial Real Estate, University at Buffalo Real Estate Development Program;
Gold: Beardsley Architects & Engineers, New York Real Estate Journal;
Silver: CoStar Group Inc., Greater Rochester Association of Realtors;
Bronze: Bridgeway Commercial Realty, LLC, The Chazen Companies, CIREB, CREXI, Empower Federal Credit Union, Harris Beach, LLC, Hudson Valley Economic Development Corp., LaBella Associates, Monroe Capital, Inc., Stewart Title Insurance Company, SVN Realty Performance Advisors, Inc. Think Dutchess Alliance for Business and Upstate NY CCIM Chapter.
Please mark your calendar for next year's conference: June 3-5, 2019 at the Turning Stone Resort Casino.
Board Meeting
During the Annual Conference, the NYSCAR Board met at 7:00 p.m., June 4th. Board members discussed recent audits by DOS regarding the use of corporate titles and advertising regulations.
RPAC chairman Mike Johnson thanked everyone who donated to RPAC. He reported that $7,925 has been raised for RPAC so far this year. Members also discussed flood insurance, ADA notice requirement, marketplace fairness and new tax provisions.
Membership chair Rich Ferro reported that there are 811 members as of May, 2018. He noted that Realtor membership is up from the same time last year (382 vs. 338). I am happy to report that all seven chapters report having good, solid meetings and events around the state. The board also approved the formation of a Westchester/Putnam Chapter.
Realtor Emeritus Members
If you have been a Realtor member with the National Association of Realtors for a cumulative period of 40 years and have completed at least one year of service at the state, local or National Association level as an officer, director, committee member, federal political coordinator, you may be eligible for Realtor Emeritus status.
If you would like to apply, please contact Ali Mann ([email protected]) or Sherry Marr ([email protected]) BY September 1st. All applications are submitted by the local association of Realtors.
As a reminder, beginning in 2019, Realtor Emeritus status eligibility will be 40 continuous years as a member of the National Association of Realtors and each candidate member must also have completed at least one year of service at the National Association of Realtors level.
National Association of Realtors Conference & Expo, Boston, MA
Register now for the 2018 Realtors Conference & Expo, taking place November 2-5 at the Boston Convention & Exhibition Center (BCEC) in Boston, MA. (Visit: http://www.nar.realtor - events for complete information).
Guy Blake, CCIM, is the president of NYSCAR and is an associate real estate broker with Pyramid Brokerage Company, Newburgh, N.Y.