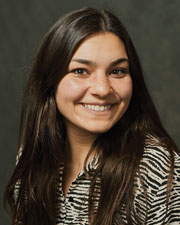 Bohemia, NY To meet increasing demand for the services offered by P.W. Grosser Consulting, Inc.'s (PWGC) Environmental Division, they have welcomed Leanna Balestra as a field hydrogeologist and environmental scientist.
Balestra, a recent graduate from SUNY Environmental Science and Forestry, will work with the Environmental Division focusing on remedial construction projects throughout New York State. She will provide management, oversight, and documentation services on projects, technical field services for environmental investigations, and wetland inspection and mapping services.
"I look forward to putting my drive and enthusiasm to work for such a reputable organization," said Balestra. "I'm eager to work with the highly skilled staff and demonstrate my competence in the field."
"We are very excited to have Leanna joining our roster of professionals," said PWGC president/CEO Paul Boyce, PE, PG. "Her education and prior experience will help her excel. I look forward to her contributions to our growth going forward."

Thanks for Reading!
You've read 1 of your 3 guest articles
Register and get instant unlimited access to all of our articles online.

Sign up is quick, easy, & FREE.
Subscription Options
Tags: