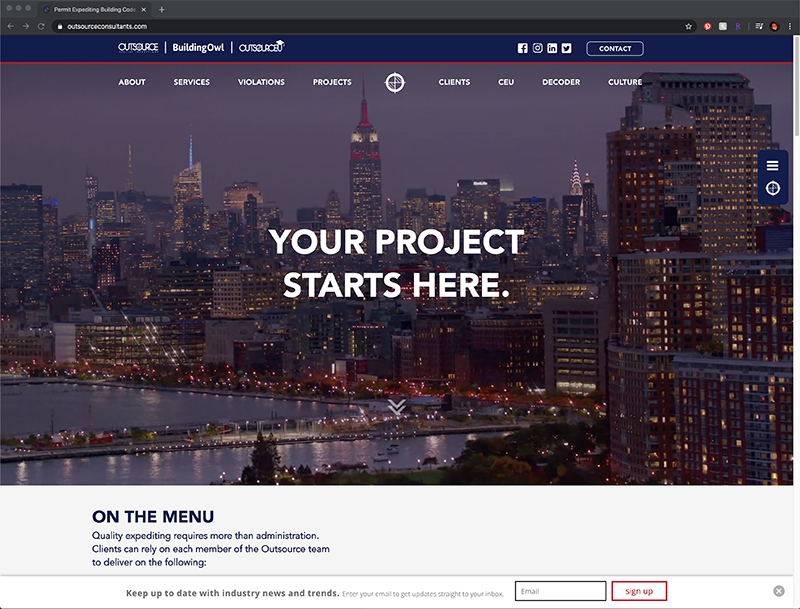 New York, NY Since 1993, Outsource Consultants, Inc. has equipped the designers and builders of the New York City skyline with expert expediting and code consultations services. Along the way, the firm has developed several technologies specifically tailored to building professionals. All of these technologies can now be accessed via their newly redesigned website at outsourceconsultants.com.
"The launch of the new outsourceconsultants.com allows our clients to finally engage with all of our brands and technologies from one place. Our team has worked very hard to build software and solutions for New York City's architects, engineers, contractors, property managers, and building owners and we are ecstatic to offer many solutions to help them save time and achieve more," said Diego Caballero, principal.
Do you need a break-down of a building code update? The Decoder, Outsource's DOB and code news source that organizes pertinent articles by profession, can be accessed through the main menu. Want to simplify violations, permits, open applications, and more? BuildingOwl, their proprietary software that monitors, alerts, and resolves critical building issues is accessible at the top banner. Are you an architect needing AIA credits? OutsourCEU, found in the main menu, has you covered! Needing a special inspection? Outsource's sister company, Outsource Special Inspections, can be found on the top banner of every page. Also available is a free violations search tool and client access to their project tracking system. Learn more and see it all at outsourceconsultants.com.