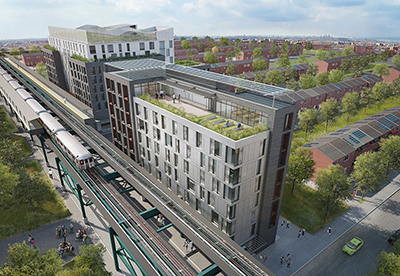 Brooklyn, NY The architectural design for Livonia 4, a 420-unit housing development on four sites in the Brownsville neighborhood of Brooklyn, has been awarded to Magnusson Architecture and Planning PC (MAP), according to Fernando Villa AIA, LEED AP BD+C, the MAP principal-in-charge of the project.
Per the New York City Housing Authority's RFP and in concert with New York City's Active Design Guidelines, said Villa, the development is intended to help achieve seven goals:
• Provide resources to support a healthy lifestyle
• Promote active mixed-use corridors
• Improve connections throughout the neighborhood
• Create active and safe public spaces
• Improve housing stability and support residents
• Provide support and capacity building opportunities
• Excellence in sustainability
Construction is estimated to begin after the Uniform Land Use Review Procedure (ULURP) has been completed.
"This design incorporates our shared belief in the value of excellent participatory design in affordable housing that incorporates elements of active design, sustainable building practices, and integrated open space," said Villa. "Intrinsic to our design approach is our commitment to the members of the Brownsville community who are most underserved: seniors, children, families, and single mothers."
The development is part of the Livonia Corridor revitalization that has been underway for several years. MAP is also designing another four-building development in nearby East New York, which is part of the "the second phase of development in the Livonia Ave. Initiative, which aims to revitalize city-owned sites along Livonia Ave. in East New York and Brownsville."
"Architecturally," said Villa, "The buildings are also designed to bridge the divide across Livonia Avenue between the tower-in-the-park NYCHA apartment buildings to one side, and the two-story quasi-suburban single-family Nehemiah Houses along the other, through a series of specific massing strategies. The proposed development will also activate the urban open space under the elevated tracks along Livonia Ave."
The proposed design includes four separate buildings on four separate blocks and lots, on lot assemblages ranging from 9,152 to 40,000 s/f, all situated along the south side of Livonia Ave.
The project's co-developers who were awarded the contract are Radson Development, Community Solutions, and Catholic Charities Progress of Peoples Development Corp. (CCPOP).
A key part of MAP's design is intended to help address: providing ready access to fresh food; the power of continuing education and the importance of early childhood development; the need for a community to provide for its elderly; helping children grow into adults who contribute to their community; and providing a stable supply of housing that's affordable.
"We also intend to incorporate cost-effective construction, energy efficiency and sustainability as major goals, as a means of reducing the environmental impact and providing healthier, more comfortable, more resilient, and more affordable buildings for Brownsville's low-income residents," notes Mr. Villa.
Besides the features mentioned above, he says, some of the sustainable design strategies that will be implemented in the project will include the use of high-performance building envelope and mechanical systems, as well as Energy Star lighting and appliances, low-flow WaterSense water fixtures, water metering for leak detection, and 75% construction waste diversion.
"Once completed," said Villa, "this project will be a model of innovative, well-constructed, sustainable and energy efficient buildings within a modern design that responds to the disconnected sites to create a language along Livonia Avenue."
Magnusson Architecture and Planning is an interdisciplinary design firm committed to community revitalization through high-performance design and planning. For over 30 years MAP has been recognized as an industry leader in the design of multi-family housing, sustainable community development and urban planning.