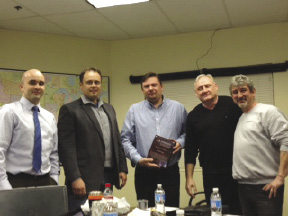 Shown (from left) are: Kemper System account executive Artur Slabuszewski, Kemper System N.Y. reg. manager Krzysztof Dobrzanski, PCGNY president Dariusz Ciach, Kemper System managing director Richard Doornink, and PCGNY project manager Boguslaw Wolkaniec.
Professional Construction Group of NY (PCGNY) was named "Contractor of the Year" by Kemper System America, Inc. for outstanding performance during the past year.
Based in New York City and founded in 2007, PCGNY Corp. has become one of the leading exterior restoration, roofing and waterproofing companies in the New York and tri-state area known for its expertise in residential, commercial and industrial construction.
"Under the leadership of Dariusz Ciach, PCGNY recognized that the 'liquid generation' of roofing and waterproofing products was becoming the choice of designers for long-term protection of the building envelope. That focus has made them a standout for Kemper System," said national sales manager Brett Steinberg in making the award.
Kemper System is a worldwide leader and manufacturer of cold liquid-applied reinforced waterproofing, surfacing and roofing membrane systems, including "odor-free" systems, important for restoration projects.
Kemper System employs a nationwide network of committed sales representatives and a staff of professional technical support consultants that provide expert counseling, evaluation and long-term, built-to-last solutions for plazas, green roofs, new roofs assemblies, existing roof recovery, metal roofs, balconies and terraces, historic restoration, gutterways, interior and industrial applications and below-grade waterproofing.
Applications of Kemper System products are supported by an experienced technical department, site quality control department and customer care support center, as well as trained technical field sales representatives throughout the U.S. and Canada.