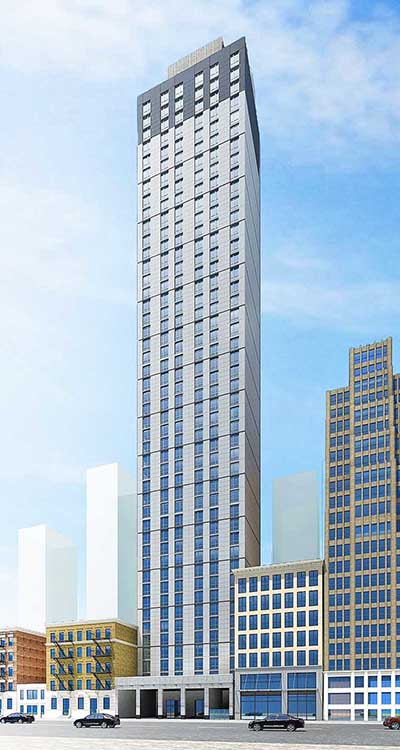 Manhattan, NY The 531-room, 46-story dual brand Marriott hotel on 140 W. 28th St. has topped out. Designed by Gene Kaufman Architect (GKA), the Springhill Suites and Towne Place Suites make up one of the tallest hotels in the city.
The 419-ft. tall structure, which replaces a parking lot, yields 178,000 s/f, with a 1,500 s/f public arcade, a fitness center, meeting rooms, dining room, and two lobbies. The hotels have separate lobbies and shared common areas. Plenty of destinations are a block away, with highlights including the FIT Campus, Penn Station, Madison Square Garden, Hudson Yards District, and the High Line.
GKA founder and principal Gene Kaufman said, "With its variety of restaurants, shops and easy access to other parts of Manhattan, Chelsea shows no sign of losing its attraction for visitors. The demand for budget-friendly hotel rooms in particular continues to grow in order to accommodate the number of tourists wishing to stay in this vibrant neighborhood."
Chelsea is one of the many New York City neighborhoods transformed by GKA-designed hotels, which predominantly serve guests drawn by the modest prices as well as the quality assurance that comes with brand names like Hyatt, Hilton and Marriott.