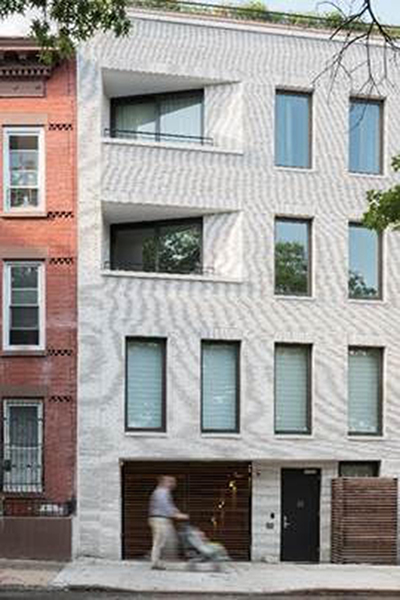 Brooklyn, NY According to DXA studio, a New York based architecture and design firm, 280 St. Marks Ave., a condominium building in Prospect Heights has been completed. 280 St. Marks Ave. is a 80,000 s/f, 31-unit condominium building in Prospect Heights. Located in a neighborhood celebrated for its brownstones and brick townhouses, DXA maintained the cadence and quality of the surrounding neighborhood in the faceted façade of the building. The angles also correspond to the Flatbush Tpke. which ran near the site, whose early grid was superimposed by the city grid in the 1800's resulting in angled neighboring buildings and irregular property lines.
"We are thrilled to see this completed project in such a rapidly evolving neighborhood," said Wayne Norbeck, a partner at DXA studio. "We look forward to the building becoming an important presence in Prospect Heights and an integral part of the community."
Essential to every unit is outdoor space. The top floor has large terraces and landscaped roofs, intermediate floors have balconies and loggias, and the ground floor has a series of contiguous yards. A suite of community focused amenity spaces are included in the building, beginning with a large double height community room with doors leading out to a public garden. Above is a children's playroom, and an outdoor recreation space with a gym and bike room below.
The form of the building is derived from the aforementioned irregular lot shape, and with a depth of over 130', atypical for New York City, DXA was able to capitalize on the south facing exposures and give most units 2 or 3 exterior walls with large glass windows. The result is an abundance of natural light, which when coupled with the light and bright pallet of the interior design give the living spaces a prevailing sense of calm and wellbeing. Live-sawn white oak floors are complimented with walnut accents and Olympian Danby stone counters.
Brooklyn has experienced an artistic renaissance in the last several years as lost forms of craftsmanship have been rediscovered and explored. 280 St. Marks celebrates this phenomenon in featuring many local artists and makers throughout the building. A chandelier by lighting designer David Weeks greets you upon entry, woods by Hudson Woods and Madera Trade can be found throughout, and wall paper by Flavor Paper and custom kitchen pendants by Brendan Ravenhill are integral to the decor.
"DXA studio is pleased to be part of this new development which will be a significant residential addition to such a vibrant neighborhood," said Jordan Rogove, a partner at DXA studio. "We are excited for future residents and hope they will enjoy and embrace the design of the development."