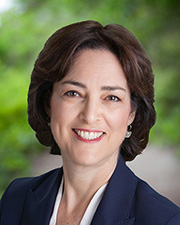 Manhattan, NY Hoffmann Architects has welcomed a new team member to the marketing and business development department.
Lisa Deneau joins Hoffmann Architects as business development manager for the N.Y. region. With 20 years' experience marketing professional services in the A/E/C industry, she has led business development efforts in establishing and maintaining client relationships. She applies her knowledge of the N.Y. design and construction industry to devising team strategies and forging alliances that deliver clients the best possible outcomes, tailored to individual project parameters.
Deneau earned a Bachelor of Fine Arts degree from Indiana University and has held a range of leadership positions for the Society for Marketing Professional Services (SMPS) NYC Chapter. Currently, she serves on the American Institute of Architects (AIA) New York Cultural Facilities Committee. As business development manager for the greater New York area, Deneau coordinates between technical staff and prospective clients to facilitate innovative investigation and design programs that address immediate building enclosure concerns and anticipate future needs. She lives in Brooklyn, New York.