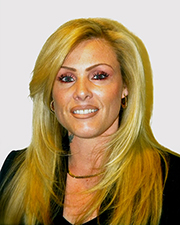 Garden City, NY According to Pliskin Realty & Development, Gina Bellomo has joined the firm's as its newest sales and leasing associate. At Pliskin, she will concentrate on tenant representation and retail leasing. She brings 10 years of commercial and residential real estate brokerage experience to her new role.
Prior to joining Pliskin, Bellomo served as the director of operations for Rapid Recovery, a multi-modality medical treatment company located in Great Neck. In addition to her position at Pliskin, she and her husband are the co-owner/operators of Fluffy Bottom BBQ, a BBQ sauce and rub company based in Glen Oaks, NY. In representing retail tenants, she will be drawing on this direct retail experience to meet their needs and help facilitate their growth and success.
In addition to her New York State real commercial and residential real estate licenses, Bellomo is a Licensed Notary Public.
Pliskin Realty & Development is one of the leading real estate brokerage, property management and investment firms in the New York-Metropolitan region specializing in retail real estate.
Pliskin is one of the most active brokerage firms representing a wide range of properties, from the largest shopping centers to smaller, strip centers and standalone properties. The company successfully meets the needs of diverse clients, from major national retail brands and franchisors to local businesses, property owners and private investors. Among its many longstanding clients are Advance Auto Parts, Sally Beauty Supply, Ethan Allen Furniture, La-Z-Boy Furniture, 7-11, Walgreens, Municipal Credit Union, Planet Fitness Gyms, Sleepy's, Subway, Crunch Fitness, Expedia Cruise Ship Centers, Sprint, and Karako Suits. Pliskin's geographic concentration is on Long Island and the five boroughs of New York City. Pliskin also manages over 1,500,000 square feet of properties in the NY area and nationally for investors. For additional information, visit www.pliskinrealty.com or call: (516) 997-0100.