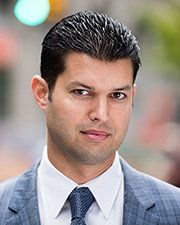 Syosset, NY Greg Batista has been appointed an associate board member of the Commercial Industrial Brokers Society of Long Island (CIBS).
Batista, a broker in the Jericho office of Ripco Real Estate LLC since 2015, previously was a vice president of Sabre Real Estate Group, a vice president at Pliskin Realty & Development and an acquisition specialist with Ashkenazy Acquisitions Corp.
A Long Island native, Batista is a 2005 graduate of Siena College, where he received a bachelor of science degree in Marketing and Management and where he played Division I baseball.
CIBS was formed in 1992 out of the shared belief among the region's leading brokers that the region needed a unified voice to advocate on behalf of professionalism, ethics and industry cohesion. Today, CIBS is a leading voice and advocate for commercial development in the Long Island market. Since its formation, CIBS has helped upgrade the industry by offering hundreds of educational programs, seminars and presentations; advocated professional standards and offered grievance resolution; provided informal mentoring relationships; raised tens of thousands of dollars for local charities; and created social settings in which colleagues have become friends, and competitors respected peers.