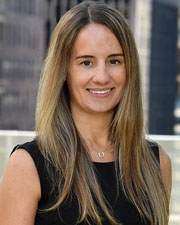 Name: Patricia Cleary
Title: Of Counsel
Company Name: Rosenberg & Estis, P.C.
What recent project, transaction or accomplishment are you most proud of?
The representation of two major New York City multifamily developers with respect to their acquisition, financing and development of leasehold positions in Brooklyn's Pacific Park. The acquisition involved complex issues related to the development of the sites as multifamily apartment buildings with affordable housing and other ancillary uses. After the acquisition, we closed on construction loans for the construction of multifamily apartment buildings for two of the sites. We have also advised on other development related issues at the sites, including issues regarding the construction of a school and certain issues related to issues concerning the MTA and LIRR. All aspects of the development involved a collaboration of private developers, state and city agencies and lenders.
What conferences, books, blogs, podcasts, or influencers would you recommend to women?
I would recommend reading as many industry related publications as possible. I also find it important to stay up to date on real estate issues and trends not just in New York City, but throughout the country. For non-industry related items, TED Talks and "This American Life" podcasts are very informative and enriching.
What is one characteristic that you believe every woman in business should possess?
Confidence.