Name: Gail Morelle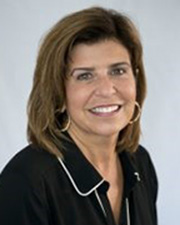 Title: Vice President, Business Development
Company Name: Christa Construction LLC
Real estate associations or organizations that you are currently a member of:
NAWIC (National Association of Women in Construction)
ROBEX (Builders Exchange of Rochester, NY)
GRE (Greater Rochester Enterprise)
In the past year, what project, transaction or accomplishment are you most proud of?
My contribution in bringing life to an abandoned retail center. Skyview Park Apartments in Irondequoit, NY will transform a vacant Sears store into affordable apartments for 55 and older. The building is comprised of 73 apartments, courtyards and include onsite storage for residents. To accommodate additional residents, a new 4 story building was added to the complex. This building of 84 apartments will be linked by a glass-enclosed bridge to the existing building. A regional hospital will provide onsite services for seniors. The housing will fill a tremendous need and be an asset to the community.
I would tell other women—believe in yourself, trust your judgement, learn something new every day and treat everyone with respect and kindness.