Name: Amanda Gorozdi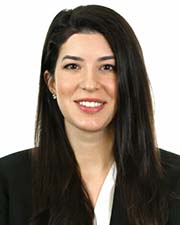 Title: Senior Associate
Company Name: Avison Young
Real estate associations or organizations that you are currently a member of:
Commercial Industrial Brokers Society
In the past year, what project, transaction or accomplishment are you most proud of?
I've had the privilege of working with a developer in purchasing an office building that he will be converting to apartments and retail in a transit-oriented town on Long Island. It was not an easy endeavor, which makes it that much more rewarding.
What steps have you taken to ensure the continued success of your firm?
The past 12 months have been unprecedented. The global pandemic has forced everyone in the real estate industry to truly look at things differently. We have had to turn into the wind and seize opportunities as they have come. A crisis of this magnitude can also redefine the way the entire industry operates. Working with our clients to help them through this is perhaps the best way to ensure the current and future success of our firm.
Why should women consider a career in commercial real estate and related services?
People spend most of their time at work and when they are not at work they are going to the store or eating at a restaurant. It's a great feeling when you can help your surrounding community in its economic development.
How have you adapted and changed in the last 12 months?
From not being able to go into the office, meetings, and networking events, zoom has been my biggest adaptation. Instead of meeting with a client, our meetings are now mostly over zoom. We've also started providing virtual tours, which we've never really done before.
How do you keep your team motivated despite conflicts and obstacles?
At a time like this, it is often the little thing that mean the most. Virtual team events have helped but we have worked hard to stay connected individually and help each other as everyone adapts to this new normal.
Women have made significant progress in the last year towards equality in the workplace. How do you advocate for your fellow women in real estate?
I'm co-chairing the new women's committee for the Commercial Industrial Brokers Society organization where women can network with other women in the industry and attend educational events to help further their careers.
What books or social media influencers would you recommend to other women?
"Unapologetically Ambitious: Take Risks, Break Barriers, and Create Success on Your Own Terms" by Shellye Archambeau