Featured Company: TRITEC
Ronkonkoma, NY TRITEC focuses on building communities, and with so many developments and projects underway, it is time to take stock and do a mid-year review.
TRITEC has been working on the Ronkonkoma Hub, a 1,450-unit mixed-use development at the Ronkonkoma Train Station, since 2011. This summer, the Hub now called Station Sq., hit it's the most significant milestone to date. Phase 1 of the overall development, Alston at Station Sq., is a 489-unit residential development comprised of six buildings that have been under construction since October of 2017. Building 1 at the Alston welcomed its first resident on June 2nd and building two opened this month.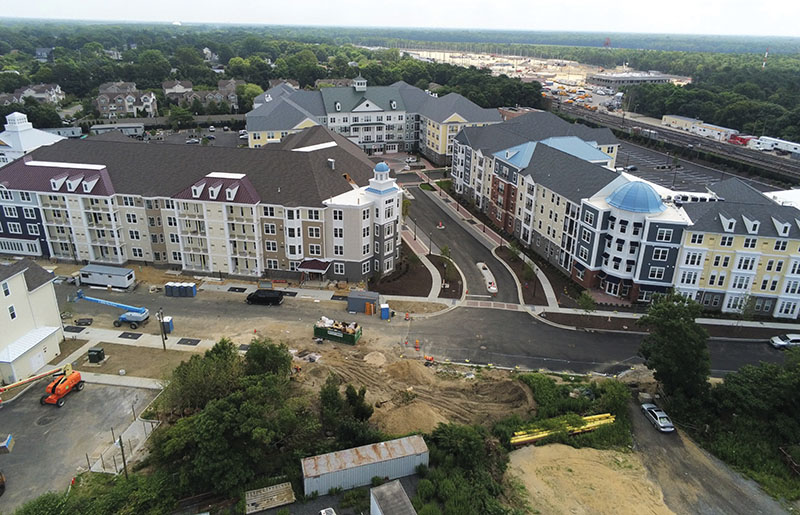 Dorothy Stallone, general manager at the Alston, was asked about welcoming new residents. "My team has been working at the Alston since March, and it is great to watch the place come alive! We see Ronkonkoma as Long Island's front door. Ronkonkoma Station is the busiest train station in Suffolk County, with MacArthur Airport adjacent to our property and the Long Island Expressway only two blocks away. Our resident welcome gifts include items from regional favorites and local treasures such as Briermere Farms, Tate's Bake Shop, Spiderbite Brewery and Flannagan's Pub. This is just a sampling of what Long Island has to offer. Residents are incredibly impressed with the quality of the project and are excited about what else will be coming to Ronkonkoma."
Lead developer on the project, Robert Loscalzo said, "It is great to see the Ronkonkoma Hub Station Sq. come to life. Alston opened in June and is expected to be substantially complete by year end. Plans for Phase 2 are underway and are expected to be under construction next year. Phase 2 will contain a mix of uses including retail, residential, and commercial spaces centered on a Village Sq."
TRITEC has also commenced construction on The Wel, a 260-unit apartment development in Lindenhurst across from the train station. "Lindenhurst has a dynamic, up-and-coming downtown, and we are excited to see all of the new shops and restaurants coming to Hoffman and Wellwood Aves.," said Kelley Coughlan-Heck, a developer on the project. The Wel is expected to open in 2021.
TRITEC is also in the early stages of development for mixed-use projects in Bay Shore, Amityville, and Hauppauge. Construction is winding down for Brightview Senior Living's first project on Long Island, a new facility for Hudson River Healthcare in Patchogue and welcoming new commercial tenants in Hauppauge, Setauket, and Patchogue. It has been a busy summer, and it should be a successful year.