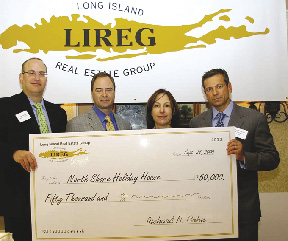 Shown (from left) are: Arthur Feldman, of Farrell Fritz P.C., chairman of LIREG's Casino Night committee; Richard Cohn, of Saturn Realty Partners, president of LIREG; Bonnie Spiro Schinagle, a director of North Shore Holiday House; and Peter Schapero
The Long Island Real Estate Group (LIREG) made a $50,000 donation to North Shore Holiday House Camp.
The funds, raised through LIREG's Developers Showcase and Casino Night held in June, will be used for the construction of a new pool at North Shore Holiday House, which provides residential summer camp experiences for Long Island girls age 7-11, who live below the poverty level.
"North Shore Holiday House provides important services to the Long Island community and we are happy to support them in their mission and future goals," said Richard Cohn, LIREG president.
"Thank you, LIREG, for your generosity. This will help us get over the edge to get our pool built," said Bonnie Spiro Schinagle, a member of North Shore Holiday House's board of directors.
In addition to its most recent donation, LIREG has contributed more than $150,000 over the past four years to such charities as Schneider Children's Hospital, Haven House/Bridges Inc., Sunrise Day Camp, Ronald McDonald House of Long Island, Hospice Care Network and Habitat for Humanity.

Thanks for Reading!
You've read 1 of your 3 guest articles
Register and get instant unlimited access to all of our articles online.

Sign up is quick, easy, & FREE.
Subscription Options
Tags: