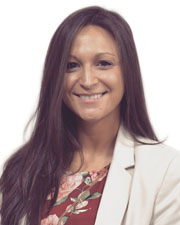 Name: Victoria Bruno
Title: Business Development Manager
Company Name: Kings Capital Construction
Associations or organizations that you are currently a member of:
The Business Council of Westchester
The Building & Realty Institute (BRI) of Westchester and the Mid-Hudson Region
International Council of Shopping Centers (ICSC)
NYC NextGen Planning Committee
What recent project or accomplishment are you most proud of?
The project I am most proud of is the new, five-story, mixed-use building Kings will construct in Port Chester, NY. It is the first ground-up development I helped obtain for our GC Division. I have kept our Site Division busy, so this building is personal proof of growth within the industry. The accomplishment I am most proud of is receiving the well-respected 2020 Rising Stars – 40 Under 40 Award from The Business Council of Westchester. It is an honor to be included in that group of young professional leaders, and it is a privilege to follow in the footsteps of my leadership team.
What is one characteristic that you believe every woman in business should possess?
Self-confidence is the most important factor for success, and I believe it is the most important characteristic every woman should possess, in and out of business. Confidence outweighs fear, so it is easier to take calculated risks without worrying about failure. It allows us to step out of our comfort zone and that is where the most impact is made. With confidence, constructive criticism feels less like a personal attack and more of a positive suggestion for growth and development. Finally, confidence is what others will remember most after a conversation is over.