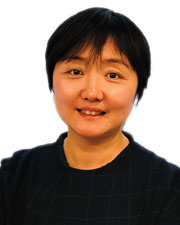 Name: Grace (Geqing) Liu, PE, LEED AP
Title: Structural Engineering Manager
Company Name: Cameron Engineering
List up to three associations or organizations that you are currently a member of:
CREW (Commercial Real Estate Women) NY
What recent project or accomplishment are you most proud of?
The hotel at 456 Greenwich St. in downtown NYC is now in construction, which kicked off this year at the prime location in Tribeca. A luxury five-star hotel building and retail space is underway. The space will include amenities spaces with a garden area. Cameron Engineering provided full services to the client including mechanical, electrical, plumbing, fire protection, and structural engineering. The endeavor involves a multitude of trades, and requires teamwork and daily coordination between the engineers, architects and builders. I'm proud to be a part of the development of this iconic hotel.
What trend(s) will dominate your industry in the next year?
More and more projects require deliverables in the form of BIM (Building Information Modelling), which will provide a great platform to accommodate and coordinate all the architectural and engineering design information. Now, large public projects also require the use of BIM to simulate the construction procedure and control the construction schedule and budget. I've spoken with some faculty of local universities and was told that they are working to introduce artificial intelligence (AI) to BIM, which will make design smarter and faster. It's an exciting time to be in building services!