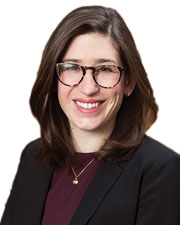 Name: Julie Levine
Company: Abrams Fensterman
Title: Associate
Education: Benjamin Cardozo School of Law, J.D., 2014 and Indiana University at Bloomington, B.A. Political Science, 2010
How do you contribute to your community or your profession?
One way I enjoy contributing to my community is by participating in Cycle for Survival, an indoor cycling event operated by Memorial Sloan Kettering. The annual event is a tangible way to raise funds and awareness for rare cancer research, a cause that is particularly meaningful to me. I proudly serve as the team captain and motivator, which over the years has tripled in size. Each year I look forward to doing my part to help beat rare cancers.
If your life were made into a movie, what actor would you want to portray you?
Julia Louis-Dreyfus would play me if my life was made into a movie. I find myself relating to her character on Seinfeld, "Elaine," all the time. I specifically relate to the close familial friendships she has and the comical predicaments she finds herself in all over New York City.

Thanks for Reading!
You've read 1 of your 3 guest articles
Register and get instant unlimited access to all of our articles online.

Sign up is quick, easy, & FREE.
Subscription Options
Tags: