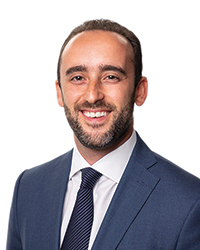 Name: Eliot Goldschmidt
Company: Meridian Retail Leasing
Title: Director
Education: Baruch College
What led you to your current profession?
I was born and raised in New York. I remember the ever-changing landscape of the city as I was growing up and was always fascinated by the continuously evolving real estate industry. Keeping up with retail and commercial trends, I was extremely interested in how matching the perfect space with a business could lead to its success, and I wanted to be a part of that process.
What do you like most about your job?
My favorite part of the job is looking at the entire process holistically from start to finish. It's rewarding to be a part of managing a lease from the first step of the process, which is identifying that unique space a tenant is seeking, to the final step of watching both the landlord and the tenant's goals come to fruition. Helping to shape a specific neighborhood by bringing a new concept or an established group to the area is what allows New York to continue to evolve and thrive.
What social media platform do you use the most professionally?
LinkedIn is my go-to platform for connecting on social media. Being able to reach out to professionals around the globe who handle all aspects of the business is crucial in our industry. It allows me to keep up with the latest market trends and think creatively about bringing new ideas to our city.