Name: David Badner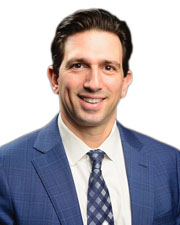 Company: Norman Bobrow & Co., Inc.
What was your greatest professional accomplishment in 2019?
I was invited to join a panel at the Real Estate Expo along with several landlords and developers. As a panelist, I discussed my real estate background and my approach to the business as a broker. The expo was attended by several thousand professionals and was a great opportunity to expand my reputation throughout the industry.
What was your most notable project, deal, or transaction in 2019?
Along with my associate Jonathan Kershner, we negotiated a 24,000 s/f flagship store for the furniture company Safavieh. It was financially a great deal for Safavieh and it was one of the largest retail leases in Manhattan completed in the past year.
What are your predictions for commercial real estate in 2020?
With the completion of Hudson Yards we are going to see a number of vacancies popping up on the market. That coupled with WeWork's shaky position could open up a number of opportunities to achieve a great deal in the coming year. I think that tenants who are financially strong will be able to push the landlords much further than they have in the past years.