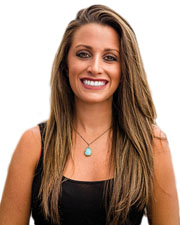 Name: Lauren Calandriello
Title: Licensed Real Estate Sales Person
Company Name: JRT Realty Group, Inc.
Association/Organization Affiliations (REAL ESTATE ONLY): Real Estate Board of New York (REBNY); Vice Chair of REBNY's Upper Manhattan & Bronx Committee; Young Men's/Women's Real Estate Association (YMWREA); Cushman & Wakefield's Women's Integrated Network (WIN); Cushman & Wakefield's Future Leaders (CWFL).
Who inspired you to join the CRE Industry?
My boss and owner of JRT Realty Group, Jodi Pulice. I first met Jodi while I was still in college at Rutgers University and never considered CRE as a possibility for my future career. Jodi explained that CRE was a great career option for women, but very few women were actually in the business. I was inspired by her success as a broker and impressed that JRT was thriving. A few years later she invited me in for an interview, I immediately accepted.
What was one of your biggest accomplishments in the last 12 months?
Being recognized as a 2018 Most Promising Commercial Salesperson of the Year by the Real Estate Board of New York (REBNY) and its commercial brokerage board of directors. This coveted award recognizes current and professional achievement as we all high moral character and ethical professional behavior. As the award winner, I have been given the special privilege for one year to sit on REBNY's Board of Governors and a one year seat on the Commercial Board of Directors.
What recent project or transaction are you most proud of?
Representing the United Nations Federal Credit Union (UNFCU) in the leasing of 24-01 44th Rd., LIC – Court Square Pl. Through leasing 30,760 s/f to Collins Building Services and 57,846 s/f to The New York Times, the building is now 100% occupied. It was exciting to execute the lease with The New York Times and bring a credit tenant from Midtown Manhattan to the rapidly growing neighborhood of Long Island City.