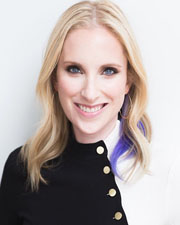 Name: Risa Letowsky
Title: Leasing Practice Co-Chair
Company Name: Duval & Stachenfeld LLP
Address: 555 Madison Avenue, New York, NY 10022
Who are some leaders that you admire and why? ?
I admire leaders who are not satisfied with the status quo. My friend and client, Winston Fisher, is a true visionary who thinks outside the box. Winston commands respect, not just because of his position, but because he is socially responsible, kind and inspires the people who work with him.
What was your favorite thing to do when you were a kid?
Dance! Jazz, ballet, tap, you name it. People always think I am kidding when I say this, but I became a lawyer because I wasn't good enough to become a Fly Girl on In Living Color.
?What advice can you offer to someone who is just getting started in your industry?
Instead of becoming an attorney that is merely good in all disciplines of real estate, consider focusing on one area and become great at it! Never burn your bridges, it is a small industry where your clients become your friends and your friends become your clients.
Who or what do you attribute to your success?
My ability to get along with difficult personalities, make adversaries friends and adapt easily to situations.