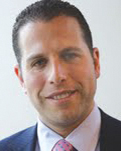 Joshua Zegen, Madison Realty Capital
Brooklyn, NY Madison Realty Capital (MRC) has provided $107.25 million of first mortgage financing for the first phase of Fortis Property Group's acquisition of the Long Island College Hospital (LICH) real estate portfolio. Collateral for the loan is a mix of former LICH properties comprising 357,000 s/f including retail, medical office, townhouses and development sites located at the following addresses: 91-95 Pacific St., 350-352 Hicks St., 349 Henry St., 112 Pacific St., 82 Amity St., 84 Amity St., 124-134 Atlantic Ave., 113 Congress St., 336 Flatbush Ave., and 184 Sterling Place.
MRC worked with Fortis to provide a flexible financing solution to facilitate the acquisition, which is the culmination of a complex, multi-party deal related to the LICH portfolio. Following a competitive RFP process that was completed 18 months ago, Fortis won the right to acquire and develop the portfolio, owned by the SUNY. Under the transaction that was negotiated, Fortis is to purchase the LICH portfolio in two phases and will redevelop the former hospital campus into a mixed-use project, and NYU will build a new medical facility to service the neighborhood.
"MRC specializes in delivering funding for complex, time-sensitive middle market transactions, so in many ways we were a natural fit for the LICH deal," said Josh Zegen, co-founder and managing principal of MRC, who structured the loan. "We've been active as a lender and investor in Brooklyn for many years now, and our vertically-integrated team has the ability to rapidly assess and underwrite existing properties as well as new development projects. Cobble Hill is one of Brooklyn's most desirable neighborhoods, and yet properties rarely trade and very few are developed given zoning and landmark restrictions. These properties are unique in offering as-of-right development potential and have no landmark restrictions, so this deal is particularly exciting for us to play this role in. Our team got up to speed quickly and ultimately closed a great deal."
David Harte, managing director with Ackman-Ziff, represented Fortis in the transaction and presented the financing opportunity to MRC.
Including this transaction, MRC has closed 23 debt investments totaling $465 million so far in 2015, consisting of special situation loan origination opportunities and loan acquisition deals. The firm is on pace to complete more than $1 billion of debt and equity transaction combined in calendar year 2015.
About Madison Realty Capital (MRC) MRC is a New York-based real estate investment firm that pursues real estate equity and debt investments in the middle market. Founded in 2004, MRC has invested in approximately $3.5 billion of transactions in the multifamily, retail, office, industrial and hotel sectors.