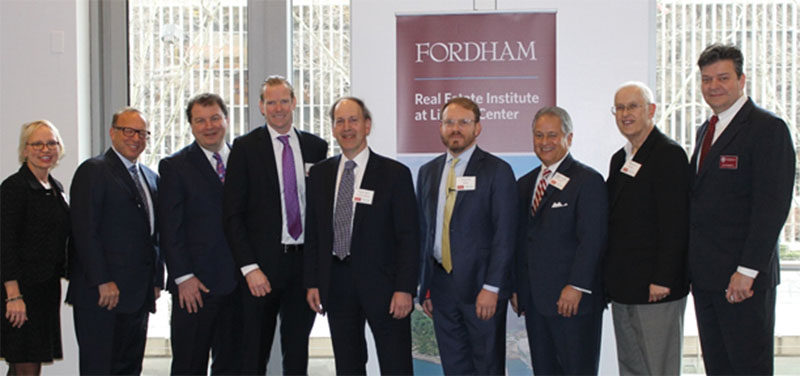 Manhattan, NY The Fordham Real Estate Institute at Lincoln Center recently co-hosted a panel in partnership with the Real Estate Services Alliance (RESA) focused on the new tax bill and the impact it could have on the real estate market. The sold out event had more than 300 real estate executives in attendance.
Andrea Marais, associate dean of strategic marketing and enrollment at Fordham's School of Professional and Continuing Studies, kicked off the morning, followed by Christina Smyth, president of RESA. Keynote presenter Richard Shapiro, director at Eisner Amper, reviewed the changes that individuals and businesses will face with the new tax bill, which was followed by a panel of market leaders discussing the impact on both the residential and commercial real estate markets.
The panel included:
James Nelson, vice chairman, Cushman Wakefield (moderator)
Brad Klatt, co-founder, Roseland Property Company, Canoe Brook Partners
Jimmy Hinton, Managing Director of Research, HFF
Jonathan Miller, CEO, Miller Samuel Inc.
Stephen DeNardo, CEO, RiverOak Investment Corp.
Mike Slattery, SVP Research, Real Estate Board of New York
The first panel in an ongoing event series hosted by the Real Estate Institute, "Tax Reform's Impact on the Real Estate Market", took place on Wednesday, January 24 at Fordham Law School in Manhattan. The event was sponsored by Sahn Ward Coschigano, PLLC; Rampart Insurance Services; Madison Realty Capital; and Girona Ventures.