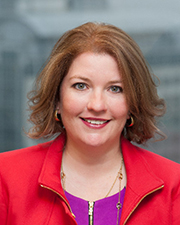 East Setauket, NY Hanneke Talbot has been named CFO of TRITEC Real Estate Company, Inc. She is responsible for the development of the company's financial management strategy and contributes to the development of the organization's strategic goals. Hanneke will also be accountable for driving discipline and success in all areas of accounting, finance and property management for TRITEC.
She has experience working with various real estate asset classes, including office, retail, industrial, lodging, senior housing, and property development. Before joining TRITEC she served as senior vice president and chief accounting officer for ASB Capital Management, and worked with Capitol Seniors Housing, as the CFO. Talbot spent almost seven years with Deloitte and Touche LLP, as a senior manager in the Audit and Enterprise Risk Services practice, focused on providing external audits to privately-held real estate owner/operators as well as publicly-listed companies in the technology industry. Prior to Deloitte, she worked for Marriott International and Freddie Mac as an internal audit manager and owned her own business.
Talbot obtained her Bachelor of Commerce and Master of International Business degrees from the University of Auckland in New Zealand. She is a Chartered Accountant (New Zealand) and a CPA licensed in Virginia.