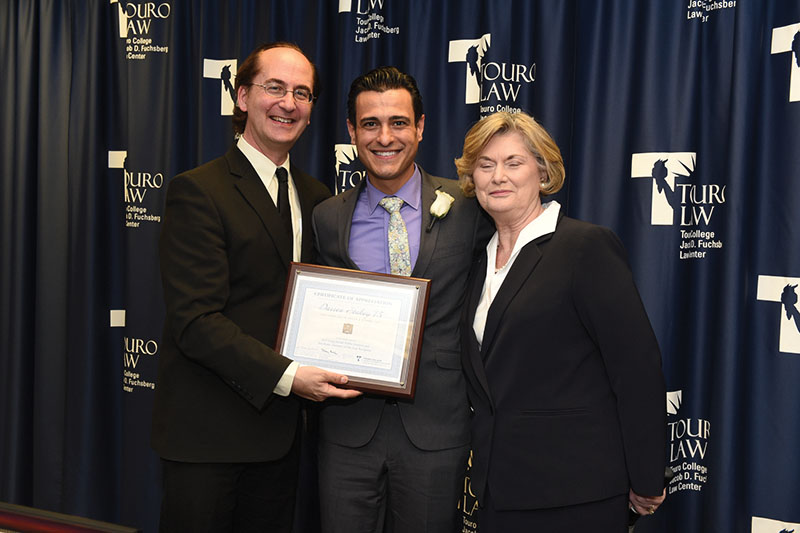 East Meadow, NY Touro College Jacob Fuchsberg Law Center honored Darren Stakey, an associate at Certilman Balin, with the Public Interest Attorney of the Year Award.
Stakey practices in the litigation and real estate groups and is admitted to practice law in New York, California, and the District of Columbia. He is also admitted to practice in U.S. District Court for the Eastern and Southern Districts of New York and the U.S. Supreme Court. Prior to joining Certilman Balin, Stakey clerked at the Supreme Court of Pennsylvania.
Stakey was the 2015 salutatorian at Touro College Jacob Fuchsberg Law Center, a published member of the Touro Law Review, and a national quarterfinalist with Touro's Moot Court Honors Board. During law school, Stakey interned for United States District judge, honorable Leonard Wexler, O.B.M., and then-magistrate judge, honorable Gary Brown, at the Eastern District of New York. A member of the inaugural class of New York's Pro Bono Scholars Program, Stakey completed his legal coursework in five semesters and spent the balance of law school providing more than 700 hours of pro bono legal service to his local community. At Touro, he garnered awards for superlative achievement in a variety of disciplines, including: criminal law, constitutional law, international law, accounting, and appellate advocacy. Stakey is an honorable George Pratt Fellowship recipient and received the Suffolk County Bar Association's 2015 Award for Academic Excellence.
Stakey was inducted into Phi Beta Kappa at Hofstra University and worked in education and the private aviation industry before becoming an attorney. A professional singer/songwriter, he is also a member of the American Society of Composers, Artists and Publishers, with a catalog maintained by BMG. Stakey is an active author of legal scholarship and has co-published articles with nationally-recognized experts and practitioners, including Benjamin Brafman, Esq. and Patricia E. Salkin. He is a member of the New York State Bar Association and the American Bar Association.