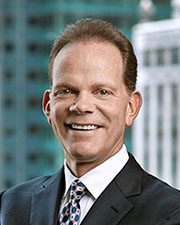 New York, NY According to SL Green Realty Corp., Edward Piccinich has been promoted to the position of COO, effective January 1st. He was previously executive vice president of operations & construction.
Over the course of 16 years at SL Green, Piccinich has expanded his role from oversight of construction, development, operations, and management of SL Green's portfolio, to include human resources, sustainability, and information technology.
"For the past 16 years, Ed has been a tremendous partner and problem solver, bringing a tireless work ethic to a growing portfolio of critical functions that help SL Green maintain its market-leading position. Ed tackles the difficult challenges and ensures the portfolio runs smoothly, and we are extremely proud to have him continue to take on more responsibility," said Marc Holliday, SL Green's CEO.
"Ed is someone we can always count on to get the job done, from complex construction projects to implementing new technologies across numerous properties. Ed has succeeded in everything he's taken on at SL Green and he will be terrific in this role," said Andrew Mathias, president of SL Green.
During Piccinich's tenure, SL Green has increased operational efficiencies that improve quality and reduce costs. He oversees the construction of One Vanderbilt, a 1.7 million s/f office tower currently being developed adjacent to Grand Central Terminal that will transform New York's skyline and provide $220 million of public transit improvements.
"SL Green has afforded me the opportunity to work on groundbreaking projects across New York City. I look forward to continuing to work with the best team in the business to further enhance our portfolio with tenacity, passion, and creativity," Piccinich said.