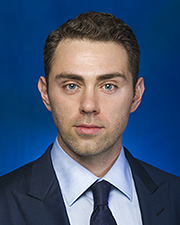 Lake Success, NY Schuckman Realty has added Ilya Gamer to their investment sales team. He is an off-market specialist in the sales and acquisition of all commercial property types in NYC with an emphasis on high street retail and new developments. He has been responsible for setting per s/f sales records in multiple retail corridors, such as East New York, $1,020 per s/f for 441 Rockaway Ave., Bay Ridge $3,020 per s/f for 426 86th St. and Bensonhurst $1,560 a s/f for 2007 86th St.
Prior to joining Schuckman, Gamer was a director of investment sales at Eastern Consolidated and before that worked at Crown Acquisitions as a canvasser where he was responsible for sourcing high street retail acquisition opportunities between the range of $20 to $60 million.
Gamer holds a Master's Degree in Real Estate Development and Urbanism (MRED+U) from the University of Miami School of Architecture and a Bachelor's Degree with a focus on Political Science and Sociology from Hunter College. He is fluent in Russian as well as English.
Ilya is also a member of the ALS Association and actively contributes to groups dedicated to fighting Lou Gehrig's disease.