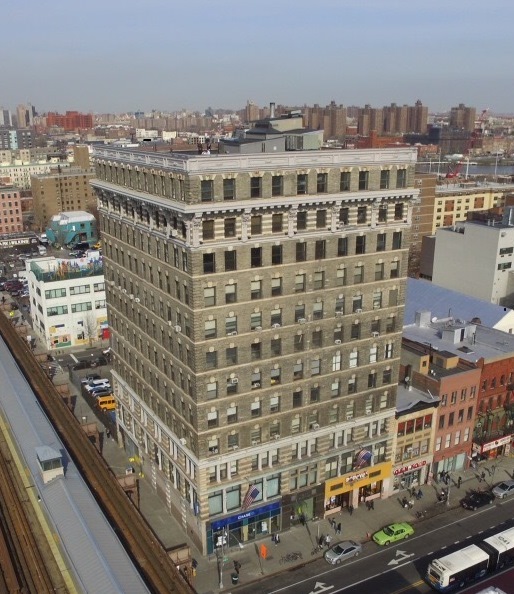 Manhattan, NY According to Savanna, The Lee Building, an office and retail building located at 1825 Park Ave. in Harlem's 125th St. corridor, became one of the first Wired Certified Gold buildings in Harlem. The certification places the building among the ranks of the best-connected office buildings in the city. The certification also points to the continuing transformation of Harlem's office market, with The Lee Building noted as the foremost office property of institutional-quality in the area.
"Technology continues to be a driver behind successful businesses, and The Lee Building now boasts the best connectivity in Harlem," said Kerry Powers, senior associate at Savanna.
"The building is well-positioned to attract a variety of tenants from technology firms to not-for-profits."
The 135,000 s/f Lee Building is adjacent to Metro North's 125th St. stop and steps from 4, 5, and 6 subway lines. The 12-story property has unique features including vaulted 10- to 12-foot ceilings, unobstructed southern views of the Manhattan skyline, and 11,500 s/f floor plates. The building is enjoying leasing momentum that is expected to continue given its newly advanced resiliency, redundancy and readiness.
The new Gold Wired Certification marks the culmination of a comprehensive capital improvement plan to The Lee Building that Savanna began after purchasing the asset in 2016. Key features of the connectivity include: multiple fiber providers, redundancy in the form of fixed wireless connectivity from the rooftop and multiple fiber points of entry into the building, and additional riser capacity to support future ISP and tenant requirements, among other features. Additional elements of Savanna's capital improvement plan to The Lee Building included façade and sidewalk repair, a newly designed lobby and entrance, upgraded bathrooms, new windows, and HVAC and electrical upgrades.
Arie Barendrecht, CEO and Founder of WiredScore, the organization behind Wired Certification, said, "We've rated buildings around the world and can now say with the utmost confidence that the Lee Building in Harlem joins the ranks of the best-connected office buildings."
The 125th St. corridor of Harlem saw extensive rezoning in recent years, which drew new institutional capital to the corridor and fostered strong growth. The 125th St. corridor – the central artery of the Central Business District– is vibrant with retail establishments in addition to a growing commercial office market. The Harlem area also boasts an abundance of cultural institutions, including the Apollo Theater, National Jazz Museum, Harlem School of the Arts and more.