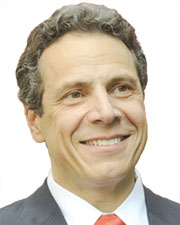 Buffalo, NY According to governor Andrew Cuomo, the restoration of the Frank Lloyd Wright-designed landscape on the estate of the Darwin Martin House has been completed. The final component of the overall restoration effort that has spanned more than two decades and received more than $50 million in investments in the National Historic Landmark and New York State Historic Site. The Martin House received $24 million in total funding from New York State beginning in 1993, and governor Cuomo closed the gap with a $5 million commitment. Those final funds were used primarily to rehabilitate the historic landscape, preserve the Barton House (1903) - the secondary residence on the estate - and complete the restoration of the second floor of the Martin House.
"The Darwin Martin House is one of Western New York's most iconic attractions," said governor Cuomo. "The restoration of the historic landscape is an outstanding addition to this important piece of Buffalo's growing architectural tourism industry."
Wright's Martin House is an important example of the designer's vision to create organic architecture that promotes harmony between the built environment and the natural world. At the Martin House estate, the multiple structures, furnishings and decorative elements combined with the landscape to create a unified, interrelated design composition. The historic landscape has now been fully realized with the placement of thousands of floral plantings, as well as trees, shrubs and vines, which artfully blur the lines between the buildings and the exterior spaces.
The historic landscape represents an important contributing feature to the overall significance of the 1.5-acre multi-residential city estate. Wright created homes in harmony with nature. He developed an integrated design approach unifying buildings, interior decorative elements and exterior landscape in an organic style, deriving inspiration from the natural world. The Martin House landscape plan combines formal aspects of the English Garden tradition and informal landscape elements. Wright arranged the Martin House plan to frame the trees and gardens beyond the walls and windows with each space open to views outside and artfully giving landscape features a presence within.
Bayer Landscape Architecture, located outside Rochester, was commissioned to carry out the restoration of the historic Wright-designed landscape.
The restored landscape is a new source of education programs and interpretation for tours, community events and dialogues about the importance of nature and design in everyday life. The landscape project also included site lighting, wayfinding, and a courtyard and café area.
Bayer Landscape Architecture principal Mark Bayer said, "The completion of this project has brought dramatic changes to the grounds of the Darwin Martin House, re-establishing the spectacular landscape that had been missing for more than eight decades. The rehabilitated garden allows visitors to once again experience the full vision that Frank Lloyd Wright shared with the Martins for this property–a vision where building and nature are fully integrated."