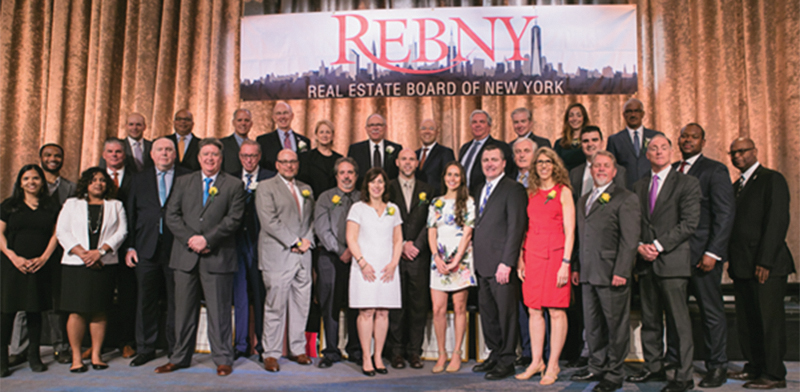 New York, NY At the Real Estate Board of New York's (REBNY) 14th Annual Commercial Management Leadership Breakfast held on June 1st at the NY Hilton Midtown Grand Ballroom, 10 awards were presented to outstanding commercial property management professionals.
"Running high-quality commercial buildings that make up the iconic NYC skyline requires strong leadership, sound professionalism, great skill, and team work," said John Banks, REBNY president. "We applaud and thank those who comprise the heart and soul of our industry for their hard work and dedication."
The 2017 awardees honored at the breakfast, organized by the REBNY Commercial Management Breakfast planning committee, were:
• Chief engineer Bill Hurd, assistant property manager Anthony Vulaj, and property manager Susana Kalaj of SL Green Realty Corp.'s 810 Seventh Ave., winner of the coveted Best Engine Room Award.
• Edward A. Riguardi Commercial Management Executive of the Year Avi Itzikowitz, director of operations for ATCO Properties & Management.
• John M. Griffin Community Service Award winner Deborah Tomasi, managing director at Boston Properties.
• Rising Star of the Year Evin Epstein, sustainability administrator at SL Green Realty Corp.'s 420 Lexington Ave.
• On-Site Manager of the Year Joanne Porrazzo, VP and property manager at Vornado Realty Trust.
• Portfolio Manager of the Year Gene Hennessy, VP and senior operations manager at Rudin Management Company, Inc.
• Small Building Engineer of the Year Gary Haftek, chief engineer at Edward J. Minskoff Equities, Inc.'s 51 Astor Place.
• Large Building Engineer of the Year Steve Nathan, chief engineer for Silverstein Properties Inc.'s 4 World Trade Center
• Security Professional of the Year Thomas Clark, emergency action plan director at Paramount Group, Inc.'s 1633 Broadway.
• Porter of the Year James Streppone, Day Cleaning Foreman at Fisher Brothers' 605 Third Ave.
The event, held in the Grand Ballroom at the New York Hilton Midtown, included a keynote speech by Craig Ivey, president of the Con Edison Co. of N.Y. In his address, Ivey discussed NYC's energy needs, natural gas capacity, the growth of renewables, and how new technology, and the governor's REV process are shaping energy planning for the commercial property management community in this region.
Ivey outlined Con Edison's $1.3 billion investment in new meters that will allow for two-way communication between customers and the company about energy consumption. These smart gas and electric meters will result in energy savings and allow the utility to restore outages faster.
"We believe that with careful planning, wise decision-making, and the strategic use of new technologies, we can build an energy system that will be cleaner and more efficient. We can create a system that lifts our economy while helping NYS and NYC meet their environmental goals," Ivey said.
REBNY's 14th Annual Commercial Management Leadership Breakfast was sponsored by: Journal Sponsor Rudin Management Company, Inc.; Platinum Sponsors: ATCO Properties & Management, CBRE, Fisher Brothers, IUOE Local Union 94, Platinum Maintenance Services Corp., Silverstein Properties, Inc., SL Green Realty Corp., Vornado Realty Trust; and Gold Sponsors: 32BJ SEIU, Benjamin Maintenance, Boston Properties, Brookfield Properties, Collins Building Services, Inc., Firequench, Inc., First New York Partners, Jack Resnick & Sons, Inc., JRM Construction Management, LLC, RFR Realty LLC, The Durst Organization, and Total Fire Protection, Inc., among others.