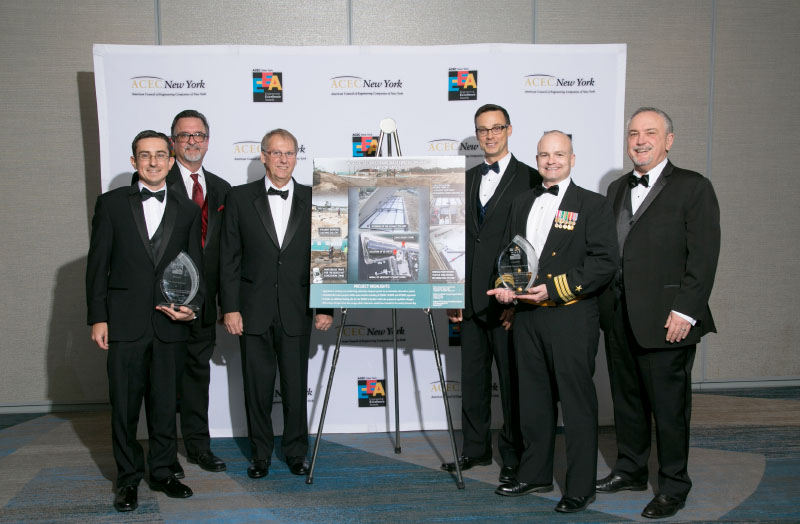 Bohemia, NY On April 1st, P.W. Grosser Consulting (PWGC) received an American Council of Engineering Companies of New York's (ACEC-NY) Diamond Award – the organization's highest honor – for wastewater engineering, design and construction oversight of the development of one of the region's first commercial innovative alternative on-site wastewater treatment systems (I/A OWTS). The work was done at Meschutt County Park on behalf of Suffolk County's Department of Public Works.
ACECNY's recognition occurred at the engineering industry advocacy organization's 50th anniversary of its Engineering Excellence Awards, a black-tie affair held this year at the Hilton N.Y. Midtown. The annual event, which drew more than 800 attendees, celebrates the accomplishments of the state's engineering companies through recognition of projects deemed to have the most impact based on a variety of parameters including complexity, timeframe and positive community influence.
PWGC's Diamond-winning project involved the design and engineering of wastewater improvements at Suffolk County's Meschutt County Park, which included the use of a new I/A OWTS to replace the existing outdated and underperforming wastewater treatment system at the waterfront park. Among the challenges presented by the project was it representing the first commercial application of I/A OWTS technology in Suffolk County, a six-month completion window, and working in an area with a high water table.
To meet the challenge, PWGC met with representatives from Suffolk County's Parks, Public Works and Health Services Departments to determine the best location for the proposed system; developed an in-depth engineering report, design plans and specifications for a county-approved I/A OWTS, in this instance manufactured by Orenco, and developed an aggressive project schedule to be ready for the targeted opening of the park on Memorial Day Weekend 2016. PWGC met all project requirements and system has successfully reduced the amount nitrogen entering Peconic Bay by 65%.
PWGC attendees included President Paul Grosser, PhD., PE, PG, senior vice president Paul Boyce, PE, and senior project manager Bryan Grogan, PE. Suffolk County attendees included Public Works commissioner Gil Anderson, PE, chief engineer Michael Monaghan, PE, and project manager Christopher Deutsch, RA. The Diamond Awards were presented in the Hilton's Grand Ballroom, which illustrated the Meschutt County Park project in detail.
P. W. Grosser Consulting, Inc. (PWGC) is a multidisciplinary engineering firm based in Bohemia, NY with offices in NYC, Syracuse, Seattle, and Shelton, CT. Founded by Paul Grosser in 1990, PWGC's growth and success results from creating value through the application of innovative environmental and engineering solutions for its clients. For more than 25 years, PWGC has been providing quality engineering services to the New York Tri-State region establishing a reputation for exceeding client expectation in the public and private sectors. Dedicated to being responsive in the design and application of cost-effective solutions for the myriad of environmental and engineering requirements, PWGC's areas of expertise include structure vulnerability and resilience, civil/general engineering, sustainable energy solutions, wastewater & water supply, natural resource studies, geographical information system capabilities and expert counseling and client representation.