Professional Profile: Tarah Cicirelli 2018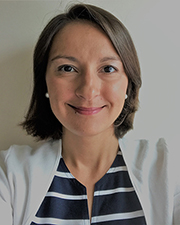 Tarah Cicirelli
Name: Tarah Cicirelli
Title: Marketing Manager
Company: Total Safety Consulting, LLC
Location: Bayonne, NJ
Birthplace: Nashville, TN
Education: Bachelor of Science in Marketing from The University of Tampa
First job outside of real estate: Marketing Manager for Paso Fino Horse Association
First job in real estate or allied field: Business development director for International Fire Protection, Inc. for 10 district offices serving the southeastern USA.
What do you do now and what are you planning for the future? I am the marketing manager for TSC, LLC. and its subsidiaries Safety Supplies Unlimited, TSC Southeast, serving the South Florida market and the TSC Training Academies located in the Bronx, Manhattan, Long Island City, NY and Bayonne, NJ. Continue to be the leading, largest privately held construction safety firm in the tri-state area. Grow market share within the industry by placing more construction safety professionals across active jobsites in the city. Increase attendance by offering diversified and comprehensive course options for laborers to receive the required construction safety training.
How do you unwind from a busy day? A long walk in the park with my dog and a vinyasa yoga flow session.
Favorite book or author: Paulo Coelho
Favorite movie: "Moonrise Kingdom" by Wes Anderson
Last song you purchased/downloaded? "And You and I" by YES
One word to describe your work environment: Familial
Rules to live by in business: "The power of networking is priceless."
What is your dream job? "Sailboat Captain"