Professional Profile: Sean O'Neill 2016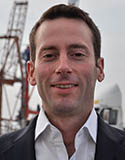 Sean O'Neill - 2016
Name: Sean O'Neill - 2016
Title: CEO
Company: American Security Systems
Location: Queens, NY
Birthplace: Newburgh, NY
Education: MBA (INSEAD), BA (Lehigh University)
First job outside of real estate: Bicycle shop – sales and repair
What do you do now and what are you planning for the future? I work with an incredible team here at American Security. Our plans for the future are to keep focused and constantly improve. We continue to expand our presence in the multifamily housing market–which has been a core focus of ours for 35 years–through fire and interactive video services.
How do you unwind from a busy day? A long weekend bike ride
Favorite book or author: David Sedaris
Favorite movie: "The Goonies"
Last song you purchased/downloaded? "Clint Eastwood" by Gorillaz
One word to describe your work environment: Bustling
Rules to live by in business: Communication followed by more communication
What is your dream job? I'm living it now!