Professional Profile: Jim Vekasy 2017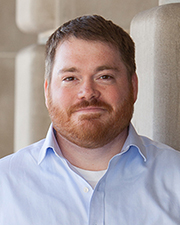 Jim Vekasy
Name: Jim Vekasy
Title: Project Architect, Associate
Company: SWBR
Location: Rochester, NY
Birthplace: Keene, NH 
Education: Bachelor of Architecture, Syracuse University, 2003
First job outside of real estate: Safety inspector at a nuclear power plant.
First job in real estate or allied field: Summer internship during college at a local small architecture firm doing mostly small scale residential design.
What do you do now and what are you planning for the future? I am currently an architect in our housing studio. I know that over the years my role will evolve, but there are still many aspects of this profession that I'm excited to experience.
How do you unwind from a busy day in real estate? Spend time with my family, typically doing an activity that involves being outdoors.
Favorite book or author: I currently read a lot of books to my kids, so anything by Mo Willems because they make me laugh.
Favorite movie: Any comedy, I'm always up for a good chuckle.
Last song you downloaded? Dan Auerbach's album "Waiting on a Song"
One word to describe your work environment: Collaborative
Rules to live by in business: Maintain your relationships. From the daily production with co-workers, coordinating with consultants or earning your clients trust and respect...we are a profession built on nurturing these relationships to create the best product possible.
What is your dream job? Lego designer...I can still be an architect but get to play all day.