Professional Profile: Jesse Held 2018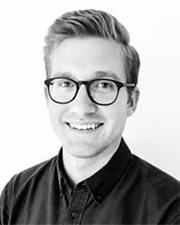 Jesse Held
Name: Jesse Held
Title: Designer & Project Manager 
Company: BHDM Design
Location: New York, NY
Birthplace: Sandwich, Massachusetts
Name: Jesse Held
Title: Designer & Project Manager
Company: BHDM Design
Location: New York, NY
Birthplace: Sandwich, Massachusetts
Education: Wentworth Institute of Technology – Bachelor of Science in Architecture and Master of Architecture
First job in real estate or allied field: Designer for Carlton Architecture, a multi-disciplinary architecture firm located in NYC.
What do you do now and what are you planning for the future? I am currently working on several projects – three residential projects in three different cities. The most notable is Tangram, a transformative 1.2 million s/f mixed-use development in Flushing, Queens consisting of residential, retail, commercial and hotel space. I have been working on Tangram for almost two years now and it's been rewarding. The most exciting aspect about this project is that, aside from creating a retail environment, we are working on a project that will have a major, positive impact on the neighborhood.
How do you unwind from a busy day? My partner is an excellent cook. After a long day, nothing is better than to have a casual conversation and great home-cooked meal. A glass of wine never hurts either! Recently, I have also started painting again, so if I can squeeze this into my tight schedule, it would be a perfect end to a busy day!
Favorite book or author: Sadly, I am not much of a reader, although I strive to become one. However, I do love coffee table books. I recently purchased "Timeless" by Patrick Ahearn about the classical homes he's created in some of New England's most affluent communities.
Favorite movie: "The Devil Wears Prada" (or any chick flick/rom-com)
Last song you purchased/downloaded? The last album I downloaded was "The Greatest Showman" soundtrack, although I typically listen to iTunes Radio.
One word to describe your work environment: Energetic
Rules to live by in business: Trust your instincts and go with your gut.
What is your dream job? My dream job would be less of a job description and more of what the job provides – respect, autonomy, trust, stability and the ability to explore my creativity. As a millennial, a solid work-life balance would also help to define a "dream" job. BHDM is a young company and its founder, Dan Mazzarini makes a great effort to ensure that all of his employees feel as though these needs are met. I love the design world, so I can't imagine working in a different industry.