Professional Profile: Greg Pucillo, 2019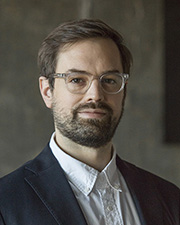 Greg Pucillo
Name: Greg Pucillo
Title: Chief Operating Officer
Company: Skyline Builders Group
Location: Brooklyn, NY
Birthplace: Concord, NH
First job: Busboy at a Caribbean-themed bar and grill outside of Boston.
First job in real estate or allied field: Real estate agent, working out of the Corcoran's Fort Greene office in Brooklyn.
What do you do now and what are you planning for the future? Right now I'm part of the Skyline Builders Group team, coordinating and managing a growing number of commercial construction and restoration projects. In the future we plan to grow that portfolio, grow our team, expand the scope of our activities, and become a modern standard bearer for the industry.
How do you unwind from a busy day? After a busy day it's always relaxing to go for a long walk with my dog Momo, catch up on some personal reading, or maybe even take some time to meditate.
Favorite book or author: George Saunders. He has an incredible sense of humor and a penchant for the absurd. All the while, his essays and fiction are always insightful and very human.
Favorite movie: "The Royal Tenenbaums." A fantastic cast, snappy writing, a stylish production set in an amazing Harlem townhouse, and a great soundtrack.
Last song/album that you purchased/downloaded? I'm a Spotify subscriber, so I stream all my music these days. Recently though I've been listening to Sfera Ebbasta, an Italian pop musician. My goal is to one day understand the lyrics.
One word to describe your work environment: Dynamic
Rules to live by in business: Here are few: 1) Every problem has a solution. 2) You achieve what you expect. 3) If you're not on your way up, you're on your way down.
If you could invite one person to dinner (living or dead, but not related to you) who would it be and where would you go? I'd really enjoy a dinner with my favorite artist, the late illustrator and New Yorker cartoonist, Saul Steinberg. I'd probably go to Cosme, a modern Mexican restaurant– something he'd not have had before.
What is your dream job? Owner of an orange grove