Professional Profile: Gabriel Kalaty 2018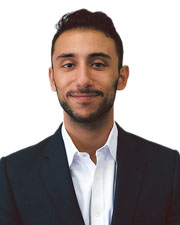 Gabriel Kalaty
Name: Gabriel Kalaty
Title: Principal
Company: Metro Realty Advisors
Location: 144 West 46th Street, New York, NY
Birthplace: Great Neck, NY
Education: Bachelor of Business Administration at Baruch College
First job: Summer analyst at Midcap Financial (formerly Healthcare Finance Group) 2012
First job in real estate or allied field: Acquisitions associate at Klosed Properties
What do you do now and what are you planning for the future? I recently launched Metro Realty Advisors, a commercial real estate brokerage firm based in Manhattan, and I also run an e-Commerce business on the side. My goal is to get MRA off the ground and provide the necessary tools and expertise it needs to grow to be a prominent, successful company.
How do you unwind from a busy day? After a busy day I like to spend as much time with my family as possible. Whether it be going out to dinner, watching TV, or playing with my adorable nieces, as long as I'm with family I am happy.
Favorite book or author: "The Great Gatsby" by F. Scott Fitzgerald
One word to describe your work environment: Tenacious
Rules to live by in business: You are never entitled to a result. Victory is a product of the fight. Don't waste time grieving over past mistakes. Learn from them and move on. It's easy to visualize good things happening when things are going well. What's not easy is to visualize good things happening when things are going bad. When you can do that, that's really what makes the law of attraction work. And most importantly, you can't deposit excuses.
What is your dream job? It would involve travelling around the world. I love to see new places and explore.
new things.