Professional Profile: David Bourke 2017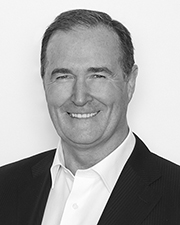 David Bourke
Name: David Bourke
Title: Co-President / CEO
Company: IA Interior Architects
Location: 100 Broadway, New York, NY
Birthplace: Dublin, Ireland
Education: Bachelor of Science, Trinity College Dublin, Ireland
First job outside of real estate: Stage Hand
What do you do now and what are you planning for the future? I have had many roles at IA during my 15 year tenure and what I like most in my current role is connecting with our people, clients and partners across our global platform. I'm very excited about the future and challenges/opportunities we face in keeping pace with the growing economy. We are planning on increasing our service offerings, investing heavily in design technology and continuing our diversification into new markets; both geographically as well as specific market sectors such as healthcare, hospitality, education and retail.
How do you unwind from a busy day? I travel a great deal but first and foremost is spending time at home with my family. When I'm on the road I like to walk a great deal getting to know new places and exploring.
Favorite book or author: "Undaunted Courage: Meriwether Lewis, Thomas Jefferson, and the Opening of the American West" by Stephen Ambrose.
Favorite movie: "Gladiator"
Last song you purchased/downloaded? For my daughter's wedding – "My Little Girl," by Tim McGraw
One word to describe your work environment: Collaborative
Rules to live by in business: I think it's always important to have a plan, have fun, compete hard and, if and when you lose, lose with dignity and learn.
What is your dream job? Movie producer. Bringing people's stories to life on the screen would be incredible.